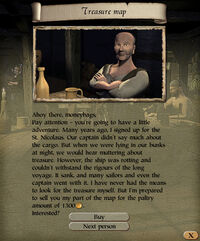 Treasure Map is a rare mission that can be found in the
Tavern
's
Side Room
. The trader appears approximately every 25 days, and stays in the Side Room approximately a week.
Buying a Treasure Map starts the treasure quest, and you will receive the first piece of the map.
The final pieces
You can buy the other eight pieces from the Informers. You will know that the information offered is a map piece if its price is unusually high.
The cost of each piece is equal to approximately 10% of the treasure's value (which is typically in the range of 18000-25000

). The total price of all nine pieces is rather high and hardly worth it. If you get lucky, one of the first pieces will show you the location of the treasure, and you'll be able to figure out where it is hidden.
The Informers that have the map pieces are placed all over the Hanse, though not randomly. The following are the usual combinations:
Ladoga - Torun - Aalborg - Scarborough - Groningen - Ripen
Novgorod - Riga - Stettin - Malmo - Bergen - Hamburg - London - Cologne
Reval - Gdansk - Oslo - Edinburgh - Bruges - Bremen
You can see (and submit) some maps on the Treasure Maps page. Some map screenshots can also be found at R. Josephs' site, page 1 and page 2.
When any of your ships reaches the spot, you will receive the treasure's value in gold.